Since the movie is in Japanese, I will review it in Japanese as well as English! This is a fantastic movie, and anyone should check it out.
初めて日本語でこのブログで書くことにしましたが、日本人の読者が増えたらもっと日本語で書きたいなとは思ってます!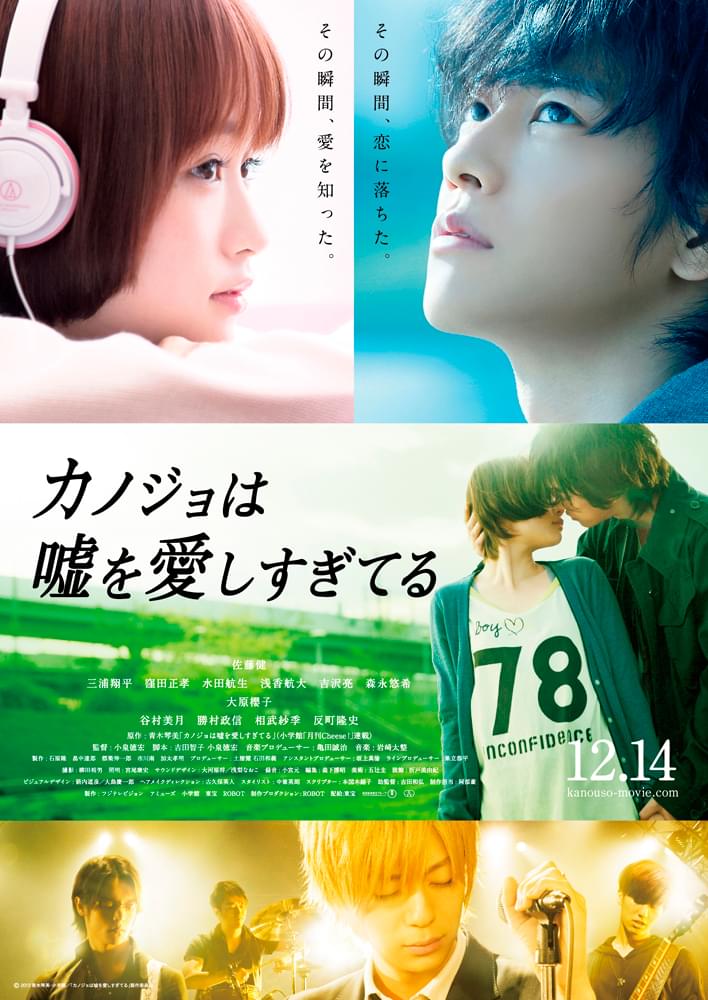 では、先週映画館行ってきました!カノジョは嘘を愛しすぎてるを見に行ったんですね。漫画(一巻)と本(小説)は両方買ったんですけど、映画を見る前に漫画の一部だけを読めたのです。
So I went to the movies last week. I went to see Kanojo wa Uso wo Aishisugiteru (Literally: She is too in love with lies). Apparently, there is an English title: The Liar and His Lover. I bought volume one of the manga and the novel version as well, but I only read a little bit of the manga before seeing the movie.
まず、私は音楽が大好きで、ジャニーズとかロックバンドをはまりやすい人間なんです。でも本も言語もそういう系で何でも好きですし、とりあえず美しい言葉に恋をしてます。だから、歌詞が主役しているこの映画はすばらしいだと思いますね。
First, I love music, and I am one to easily get sucked into Johnny's and rock groups, etc. But I also love books and languages and those sorts of things. So I guess you could say I am in love with beautiful words. That's why I think this movie is amazing, as it puts lyrics (and a lyricist) on the center stage.
佐藤健さんはすごくかっこよくて、演技が上手いですね。最初、漫画をちょこと読んだ時に「この役に当てるのかな~」って思ったんですけど、ぴったりだと思います。歌も上手ですけど鼻声ぐらいしか聴けなくて、彼の役は秋という大人気バンド「クルードプレイ」の元メンバーです。秋はバンドの音楽や歌詞を作るが、この映画に出た歌詞がすごくよくて感動しましたね。ストーリーでは、秋は最初へこんでたけど、理子という女子高生と一目惚れをしてしまいました。その子はあまりにも眩しくて純粋な子なので、へこんでいる秋にとっては見たことのないの存在です。
The main actor, Sato Takeru, was amazing at this role, and his acting is brilliant. Only having read a bit of the manga, I originally worried that his pretty image wasn't going to be right for the role, but he is perfect for the role of Aki. Although he has a good voice, in the movie he only sings a few times, and mostly he just hums. But Aki is a former member of the band 'Crude Play' and he writes all the lyrics and music for the band, but doesn't show his face. All the lyrics and songs that came up in this movie are so touching. It really left me wanting a soundtrack of the movie, which I'm sure exists, right? In the story, Aki is really depressed but he meets a girl named Riko, who is a high school student, and they fall in love at first sight. Riko is just so cute and bright and pure that it brings Aki out of his slump.
この映画のキャスト、音楽、ストーリーは全部すばらしかったと思います。最後は涙ポロポロでした。歌詞が好きな人は是非見てください!バンド関係、友達関係、恋愛関係、全部入っているので絶対に「気持ちわかる!」という方は多いでしょう。失恋を経験したことあるという方もいらっしゃるなら、おすすめです!
This movie had such a great cast, soundtrack, and story. I was bawling at the end. Anyone who wants to watch a great Japanese movie, I would higly recommend this one. There is something for everyone; romance, friendship, band member relationships, and I think everyone can find something they relate to. Anyone who has experienced a broken heart will also appreciate this film as well.
以上です!また日本語でブログをやってみたいですね!楽しかったです!みなさん、コメントはよろしくお願いしtます!今、陽だまりの彼女を呼んでいるけど、それはまたレビューしようかなと思ってます!読んでくれてありがとうございます!
So that's all for this review! I might try blogging in Japanese again if I get a few people who request it. I am reading Hidamari no Kanojo in Japanese, and I am almost done, so when I finish that, I might do a review in English and Japanese again. Thanks for reading! Leave me comments! Do you watch Japanese movies? If you saw this movie, what did you think?