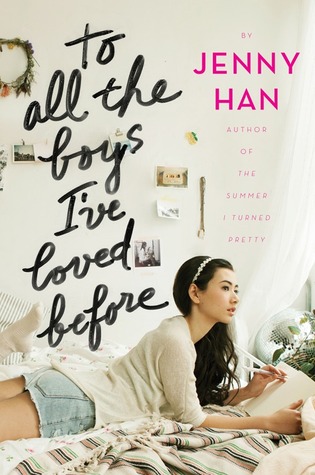 To All the Boys I've Loved Before is the story of Lara Jean, who has never openly admitted her crushes, but instead wrote each boy a letter about how she felt, sealed it, and hid it in a box under her bed. But one day Lara Jean discovers that somehow her secret box of letters has been mailed, causing all her crushes from her past to confront her about the letters: her first kiss, the boy from summer camp, even her sister's ex-boyfriend, Josh. As she learns to deal with her past loves face to face, Lara Jean discovers that something good may come out of these letters after all.
This book has been teasing me for months; the Asian girl on the cover, the fact that it's written by a Korean American author, and the potential for an interesting plot. All these things made me want to read it, but for some reason I never bought it. Maybe because the Kindle price is about double what I usually spend on ebooks. I normally only buy an ebook unless I'm dying to read it or it's on sale.
The funny thing is that the sequel, P.S. I Still Love You, was on sale in the Kindle store when I searched for it, and it was so cheap that I bought it, thinking that I owned the first book. Lo and behold, I didn't, so I had to pay full price for the first book, but I'd say it was worth it.
Before reading this book, I had just read Persepolis, a graphic novel written by an Iranian woman who lived through the Iranian revolution, and The Boy in the Striped Pajamas, which I found in the English bookstore near me. The latter is very short and I knew it was critically acclaimed, and I felt left out having never read it, so I gave it a shot. I ended up reading it in (pretty much) one sitting and loved it to pieces, but it was sad, so I needed a peppy, fluffy YA to bring my spirits back up.
This book was very fluffy, something I would have been obsessed with in high school. Lara Jean is a teenager who spends most of her time at home with her sisters baking and scrapbooking. When I was in high school, although I'm an only child, I also loved baking, and I went through a scrapbooking phase for a school project. My younger self can really identify with Lara Jean, so I didn't completely dislike her as a main character. However, I definitely don't think she would look anywhere as mature and stress-free as the girl on the cover.
The plot is interesting, and it was a fast read for me, which means I didn't get hung up on any particular part. I did see TONS of typos, some that were glaringly obvious to me. The entire time, I was utterly confused as to how this book passed through enough rounds of editing to be published while still containing so many errors. Nonetheless, the story itself didn't have many major flaws that hindered the reading process, so I kind of laughed off the typos and kept going.
Lara Jean is written as a very naive and innocent character, despite having a best friend who is constantly in trouble and/or sneaking out. The story had me guessing until the very end, and I think the multiple love interests plot was done pretty well. This is more of a sisters' tale than anything, though, and as an only child, I couldn't relate very well but had a good time immersing myself in their world.
All in all, this book was great at pulling me out of my tear-inducing book streak, and I was so intrigued by the plot that I actually read the sequel right away, which I usually never do, even if I love the book. The Korean culture inserts were cute and done really well, so I appreciated that a lot. It's hard to find books with Asian characters that aren't too stereotypical, but this is one that gets it just right, in my opinion. Check it out if you love YA and are in the mood for some fluff. The sequel had a much different feel to it, but I'd recommend reading it, as well.