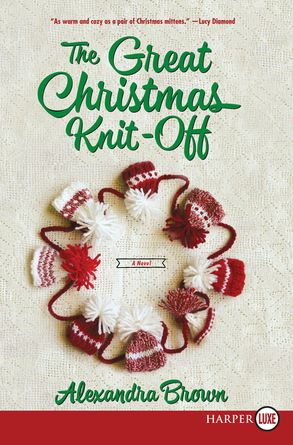 The perfect seasonal tale of how laughter, friends and wacky Christmas jumpers can mend a broken heart. For fans of Trisha Ashley and Jenny Colgan.

Heartbroken after being jilted at the altar, Sybil has been saved from despair by her knitting obsession and now her home is filled to bursting with tea cosies, bobble hats, and jumpers. But, after discovering that she may have perpetrated the cock-up of the century at work, Sybil decides to make a hasty exit and, just weeks before Christmas, runs away to the picturesque village of Tindledale.

There, Sybil discovers Hettie's House of Haberdashery, an emporium dedicated to the world of knitting and needle craft. But Hettie, the outspoken octogenarian owner, is struggling and now the shop is due for closure. And when Hettie decides that Sybil's wonderfully wacky Christmas jumpers are just the thing to add a bit of excitement to her window display, something miraculous starts to happen…
I was on the bus home from work one day, looking at daily deals on Amazon, and I realized that I wanted to read a Christmasy book. I was also in a knitting mood, and I remembered this book, but thought I already downloaded it to my Kindle. I was disappointed to see that I hadn't, but decided to buy it and read it anyway, despite it not being on sale.
I had never heard of the author, Alexandra Brown, before, and I have only read portions of other knitting-related novels, but I knew I needed a good, cozy read to keep up my spirits and knitting frenzy. This was a very light read that definitely kept me entertained.
However, the writing was very annoying at times. I love literary styles, and this author seemed to write no better than an amateur, even though this wasn't her first novel or published work. The book is written in first person, something I tend to avoid, and there was a lot of unnecessary things the main character said over and over (such as, "I made a mental note to talk to so-and-so about it later). There was too much description, mostly in the form of adverbs, which most writers know to avoid, and caught me off guard that none of them were edited out in favor of showing rather than telling.
Besides the writing, the story was sometimes strange as well, but since I love knitting and the story was about a distressed and in-need-of-a-break working girl escaping to a small town in snowy England, it wasn't all bad.
I actually really enjoyed most of the book, and it was just what I needed around Christmas time. There is a bit of a romantic interest, and there are some comedic parts that put a smile on my face. All in all, if you like to knit and you are reading this around Christmas, you'll probably enjoy it for the most part. However, I hope there are better written knitting-related novels I can find in the future.